Customize your table
Now that you have created your first table, it is time for the fun and creative part - Customization.
---
In this article:
---
Overview
Let's start with a quick overview to make it easier for you to navigate in the Table editor.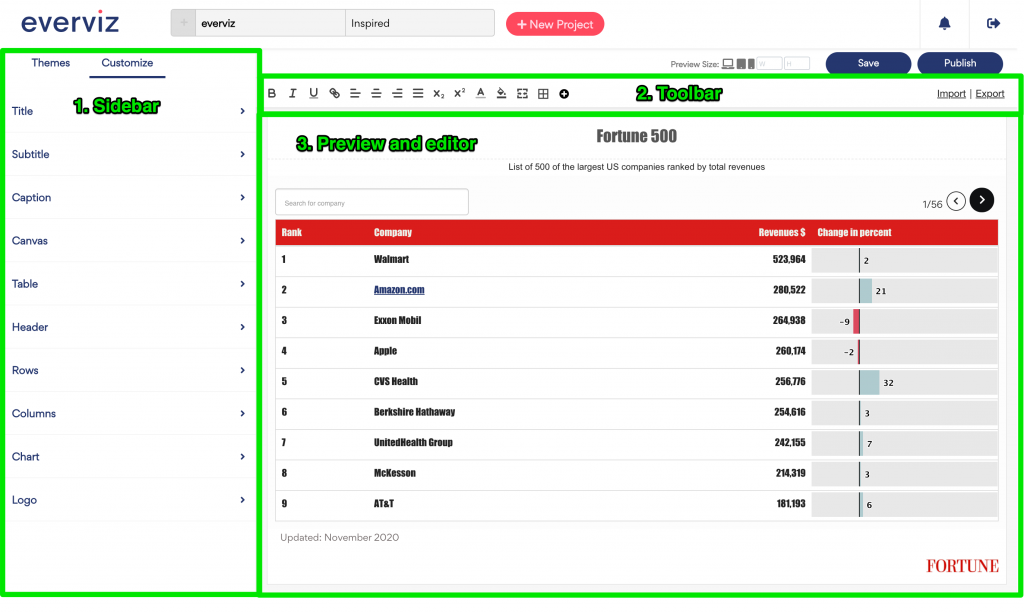 1. Left sidebar - Table configuration
In the table editor on the left side, you can customize the features of the entire table, such as sorting, search, add charts, logo and much more.
All the settings can be saved into an everviz Theme, to make it easier to apply many settings in one go. You can read more about Themes <a href="https://help.everviz.com/article/899-themes">here</a>.

2. Top - Toolbar

The toolbar at the top allows you to customize individual cells in your table. From this toolbar you can align text, change styling, add borders, add links, merge cells and more.
3. Table preview and editor
The Table section is a WYSIWYG (What You See Is What You Get) editor where you can modify cell values.
---
Table features in the left sidebar
In the left sidebar you have access to a wide range of features to lift your design and reader experience of your table.
In this section we will go through all the features.
Change table title

In the Title section you can customize the Title field in your table.
Insert a title, choose font, styling options and positioning.
If you untick the "Enabled" checkbox the title will be be removed from your table.
You can change the text of the Title field directly in the preview.
Change table subtitle

Similar to the Title field, you can add a subtitle to explain your table to your readers.
Add table captions, credits etc.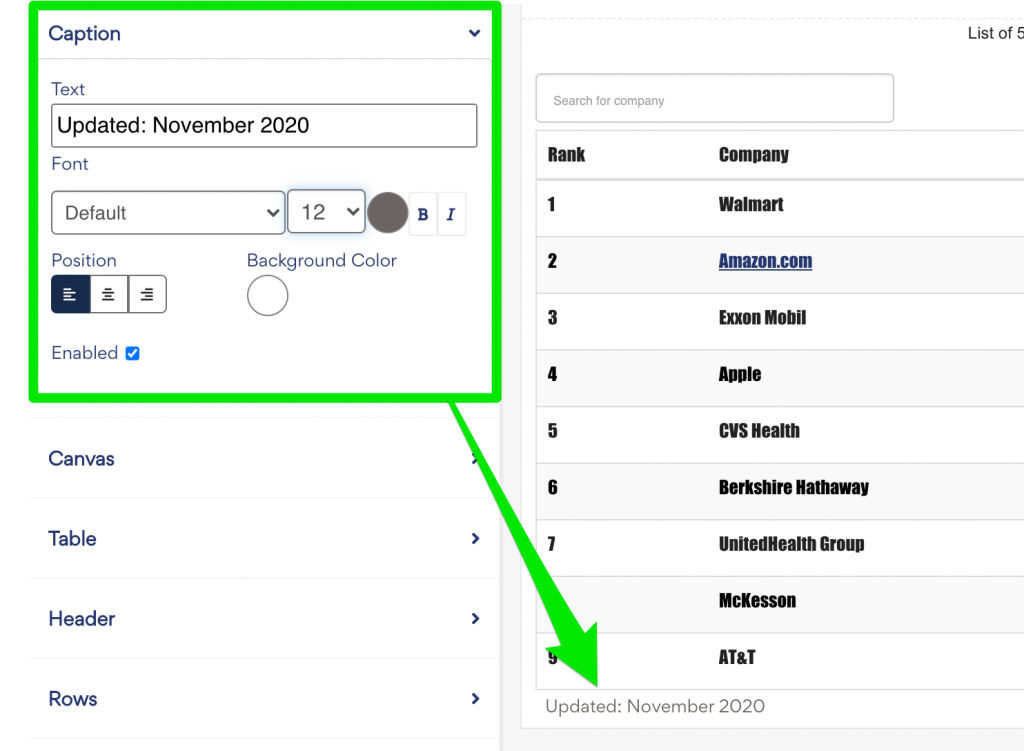 Use the caption field for adding more information about your table, such as source credits, date and time for last update, footnote text etc.
The text you insert in the caption field will be shown below the table. Tick "Enabled" to show the caption information.
Table canvas color and padding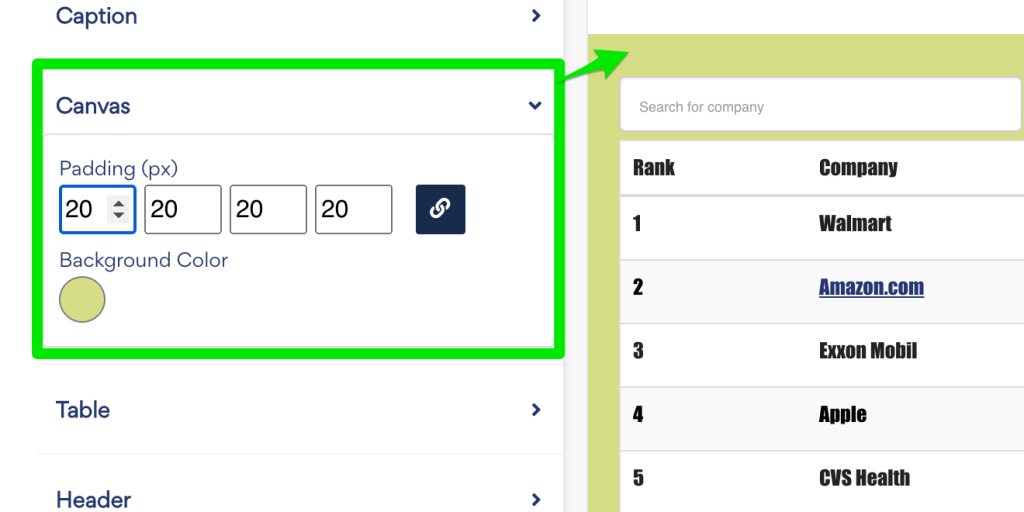 In the Canvas section you can customize spacing and colour on the canvas.
Enable table search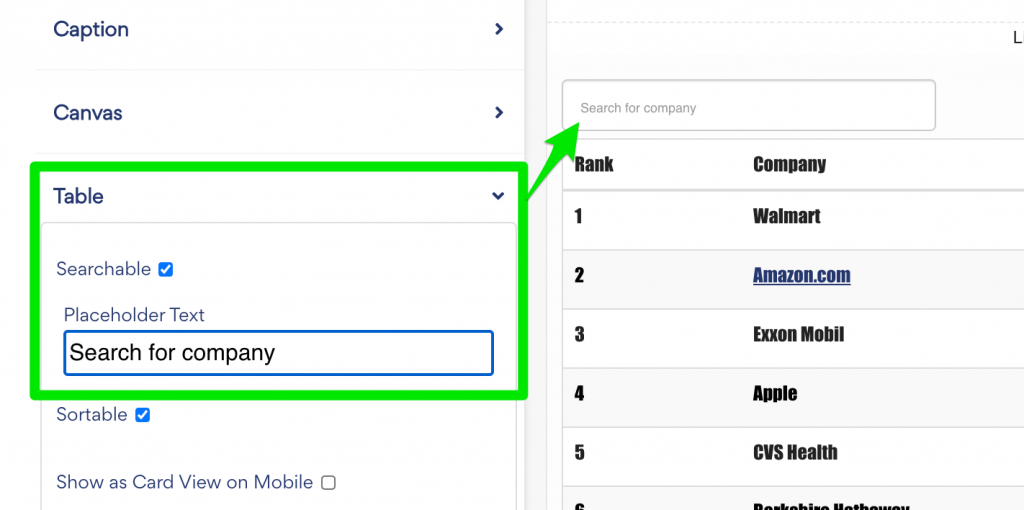 To allow your reader to search in your table, tick the "Searchable" checkbox. This will show a search field above your table, and you can also add a placeholder text to increase the reader experience.
Enable table sorting
If you want your reader to be able to sort table data, you can simply tick the "Sortable" checkbox.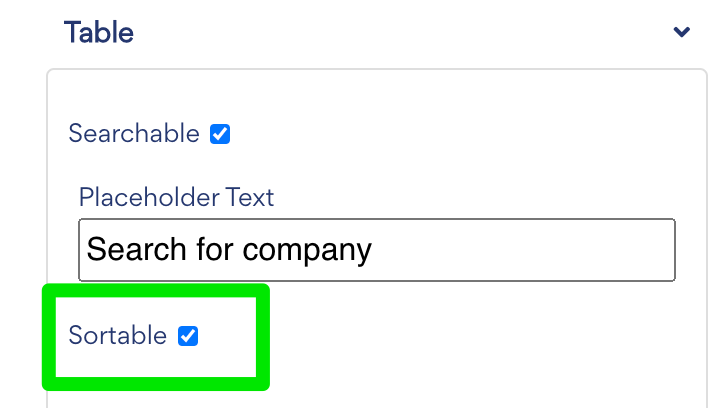 Please note, that the sorting functionality will only be available after you publish your table.
Show cards on mobile
If you have a table with many columns it can be challenging to use on a small mobile screen.
The "Show as Card View on Mobile" will display your table as cards for a mobile-optimized interface.
Table pagination
Table Pagination is a simple navigation method that lets you split a table with large amount of content into smaller parts.

In the pagination section you can customize how many results to display on each page, and style the paging buttons.
Table Style - Global styling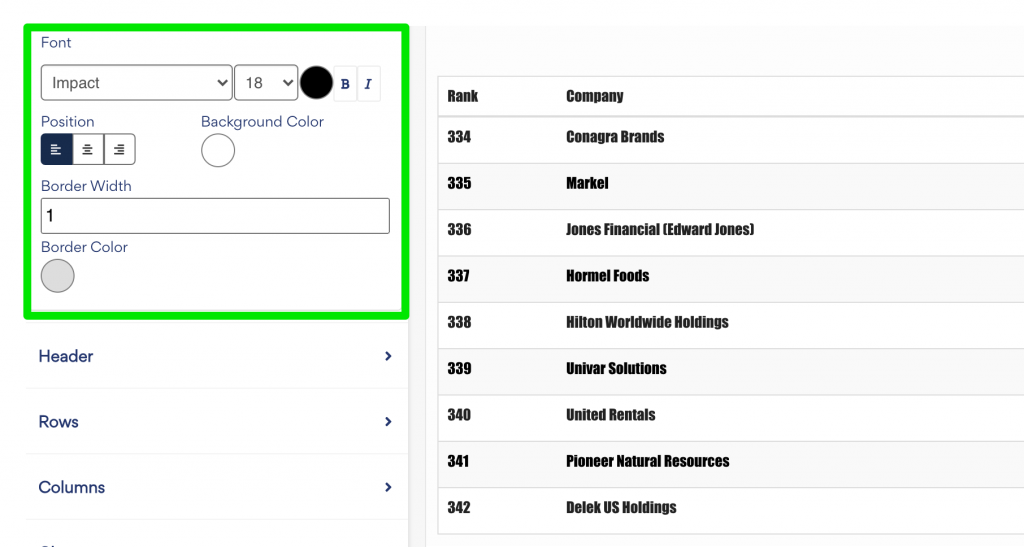 In the Font and styling section, you can customize global styling options for your entire table. Pick your favorite font, alignment and font styling.
See <a href="https://help.everviz.com/article/809-custom-fonts">this help doc</a> to learn how to upload your custom font.

Table Header style

In the Header section you can customize the header rows styling in your table.
Choose fonts, color, positioning to match your corporate style.
If you need more than one header row, insert a number indicating how many rows you want to use in the "Header rows" field. If you don't want any headers, set "Header rows" to '0', or alternatively right-click the header and delete the row.
Striping rows, aka. Zebra striping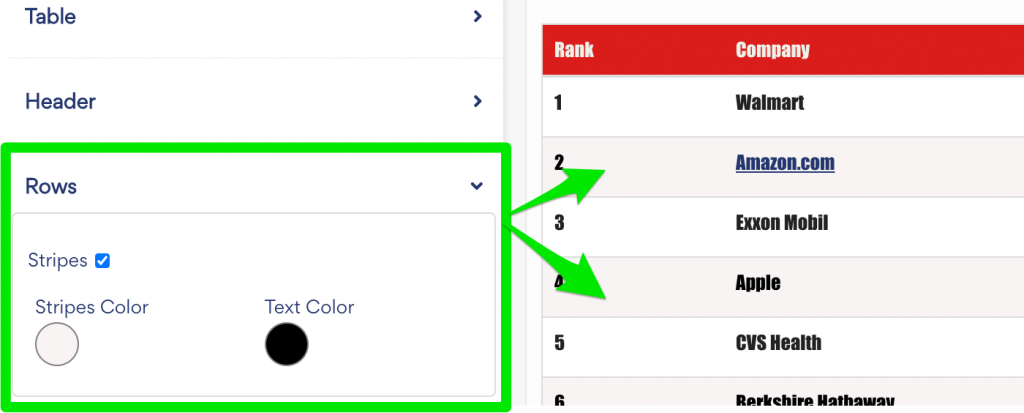 Enable Stripes if you want to have a faint shading to alternative lines in your table. This technique is also known as Zebra striping or candy striping.
Choose stripe color and text color in this section.
Add Chart to table
In the chart section you can enrich your table with small charts, aka. sparklines or mini charts.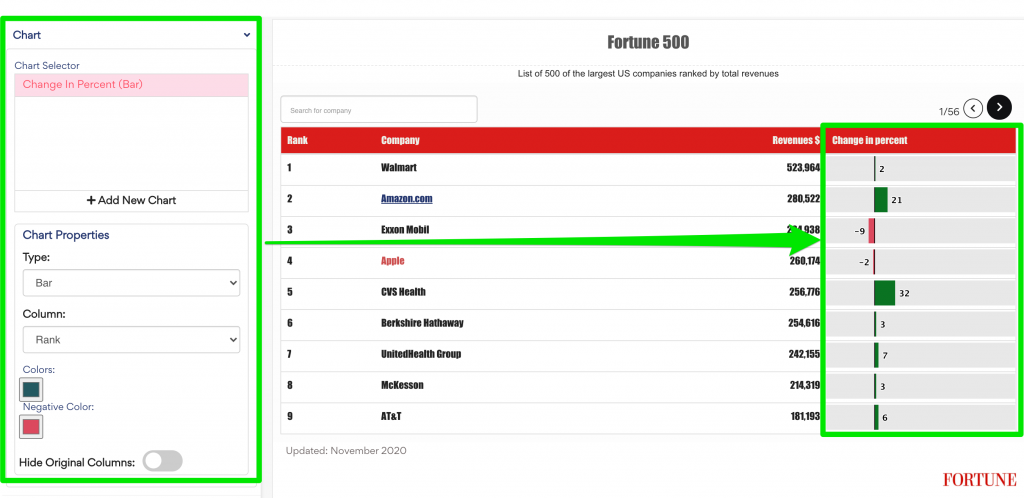 To create a chart, click on the "Add New chart button"
In the Type listbox, choose desired chart type. The following chart types are supported:
Line chart
Area chart
Bar chart
Stacked Bar chart
Column chart
Choose which column(s) that represent the data you want to visualize in the "Column" field.
In the colour field, pick a color for positive and negative values.
Finally, if you want to hide the original data columns from the table, tick the "Enable original columns" box.
Add logo to table

In the Logo section you can add a logo to your table and choose desired position and size.
Follow the on screen instructions to upload logo, or read more in this help doc.
---
Toolbar
The toolbar at the top allows you to customize individual cells in your table. From this toolbar you can align text, change styling, add borders, add links, merge cells and more.

Add Links to table data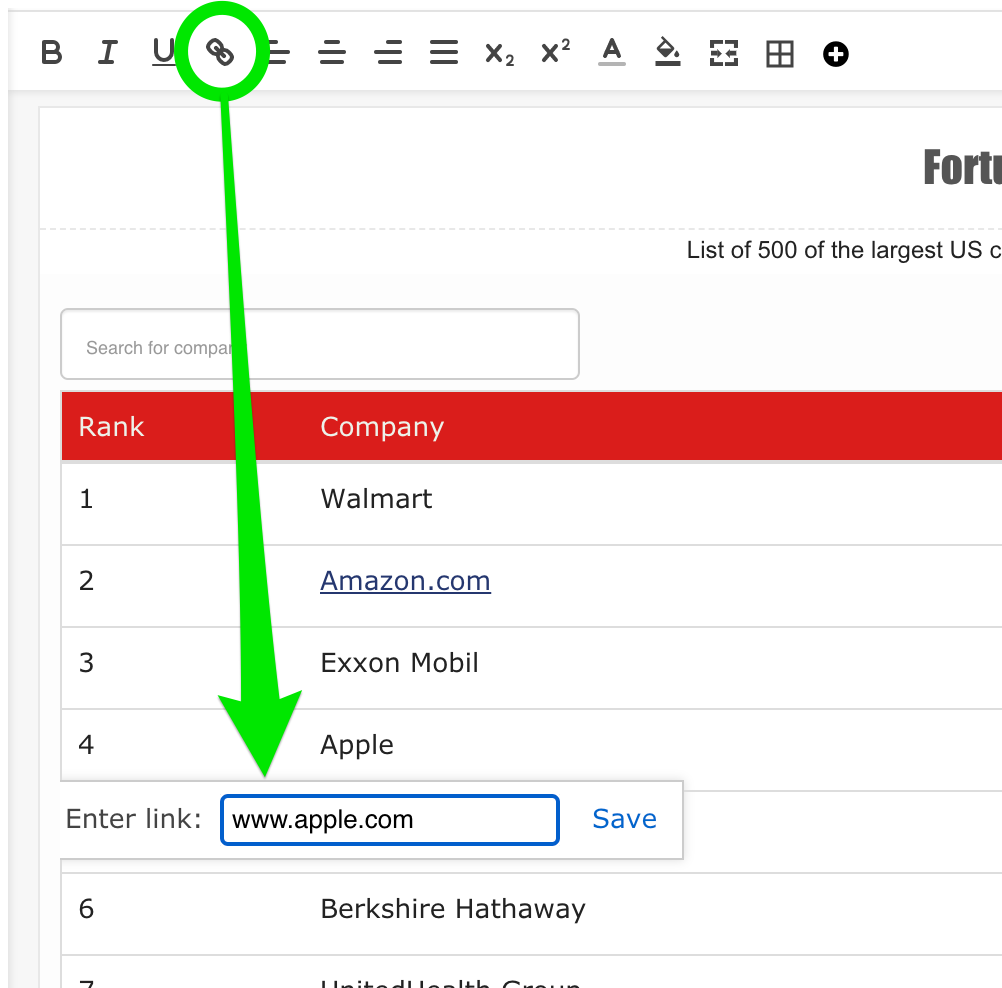 Select text in a cell and click on the Link icon in the toolbar. This will open a dialog where you can insert the URL. Click Save to update the cell.
Subscript / Superscript
A subscript or superscript is a character (such as a number or letter) that is set slightly below or above the normal line of type.
To use subscript or superscript in any of your cell data, highlight desired text and click on one of the following buttons in the toolbar:

Add or remove rows and columns
If you want to add or remove rows or columns, Use the + button. This opens a context menu. Choose desired action. Deleting or adding will happen related to which cell you have selected.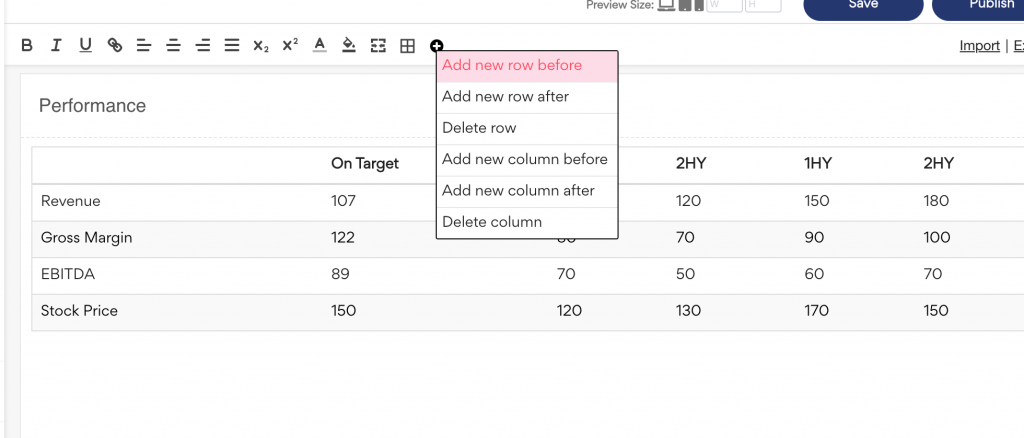 The same menu can be accessed if you right click in any table cell.
Merge cells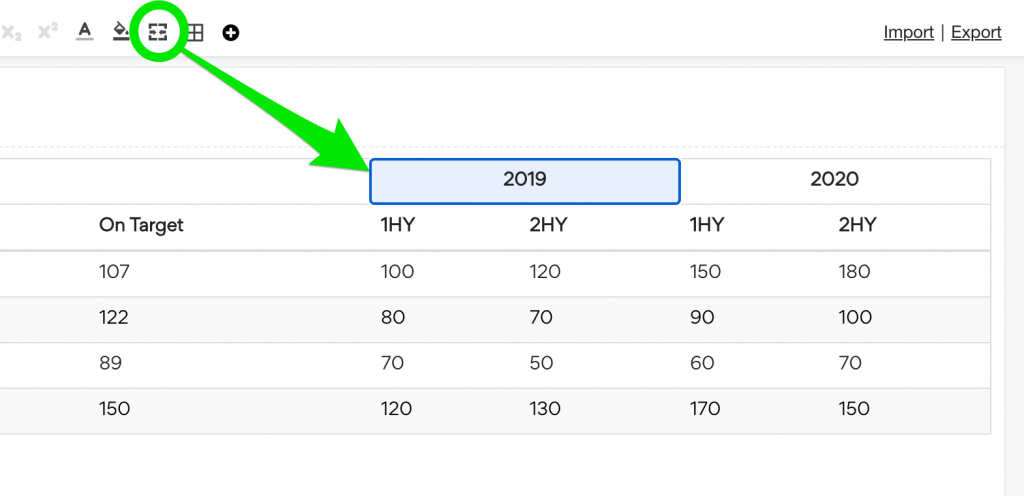 To merge cells, select desired cells you want to merge and click the merge button.
Add borders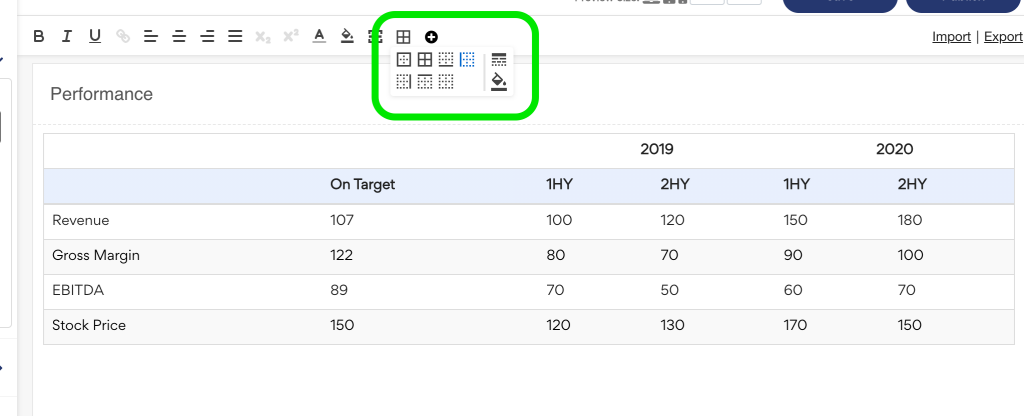 Click on the border control to style the border of selected cells. Choose border style, color, thickness and more.