Download project as video
This document describes how you download your chart, graph or map to be used in a video story.
Please note: Video export is currently available for beta customers only. To get access to this feature, please apply by emailing sales@everviz.com
---
---
How to download chart as a video
Click on the publish button in the upper right corner
This opens the Publish Dialog:
Before you download, choose your desired Frame rate and resolution
Framerate options:
| | |
| --- | --- |
| Option | Frames per second |
| 50P(Pal) | 50 |
| 60i(NTSC) | 59.94 |
| 60FPS(Web/Mobile) | 60 |
Resolution:
The resolution depends on which platform you are designing the video for. The tables shows a few examples for HD quality:
| | |
| --- | --- |
| Width / Height | Format |
| 1920 x 1280 | Landscape video |
| 1080 x 1080 | Square video |
| 1280 x 1920 | Portrait video |
Click on the Download video button when you are ready. The everviz server will start rendering the video. When the video generation process is done you will receive an email with a download link.
The process may take a few minutes depending on the quality of the video and the duration.
---
Import in your Video editing tool
After you have downloaded the video file you can drag the video as an overlay video to your favorite video editing tool.
The following screenshots show how this could look like in Final Cut Pro X and iMovie, but you could use Adobe Premiere or any other NLE of your choice.
Final Cut Pro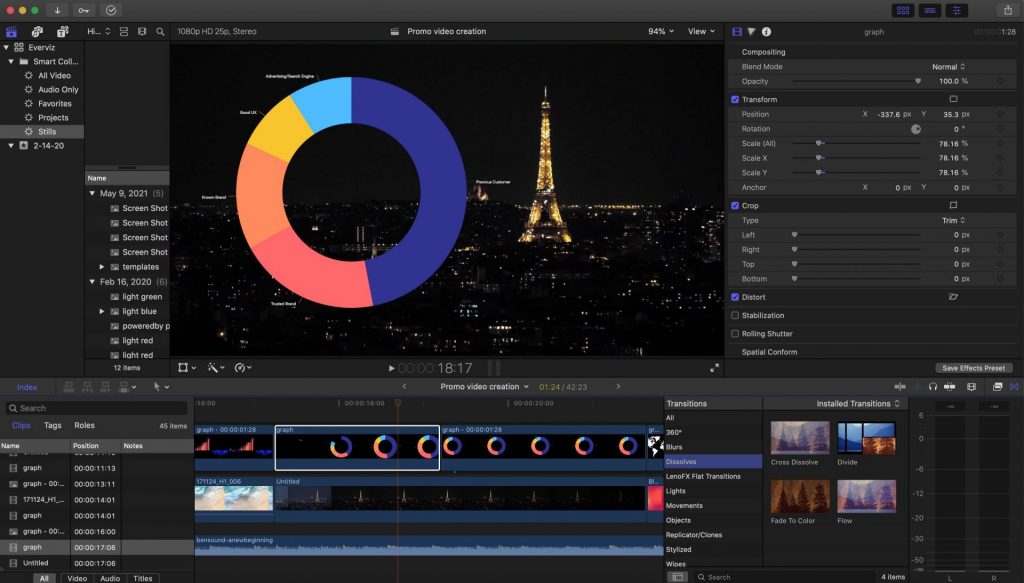 iMovie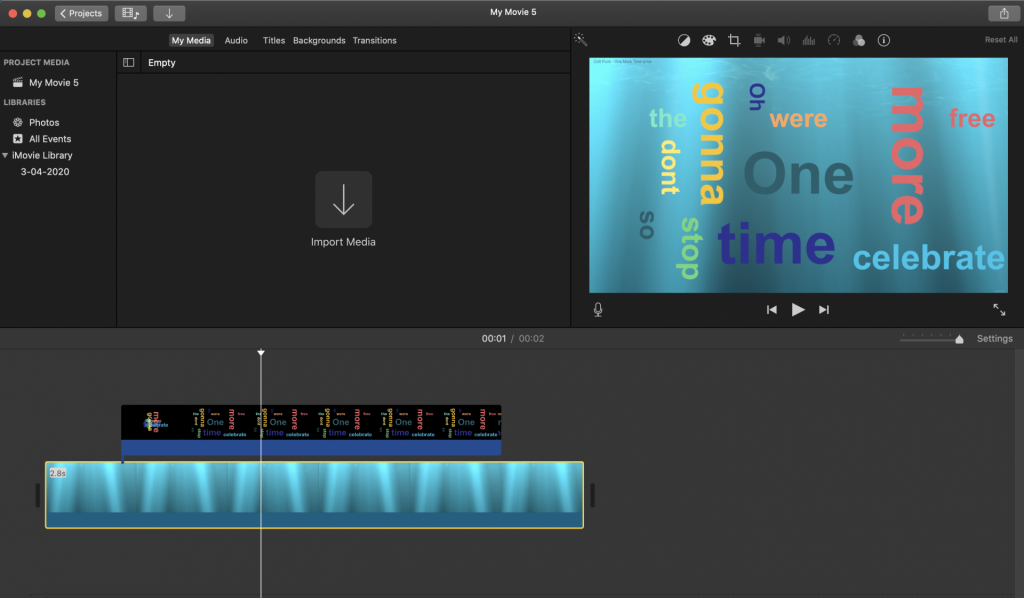 ---
Tips and tricks
When using charts in video, there are other considerations you should think about when designing for online.
Our recommendation is to build specific themes for your video files to speed up the customization process. Read more about themes here.
Font sizes and text contrasts
In a high quality video file, you probably want to blow up the font sizes for Titles, subtitles and other labels.
When you decide which background you want for your video you might also want to change text colors which gives a high contrast.
See this document for how to change texts.
Animation time
You can control the length of the video file by setting the animation duration.
In the Editor, open the Animation Section.
Use the handle to select a duration time and hit the play button to preview.